---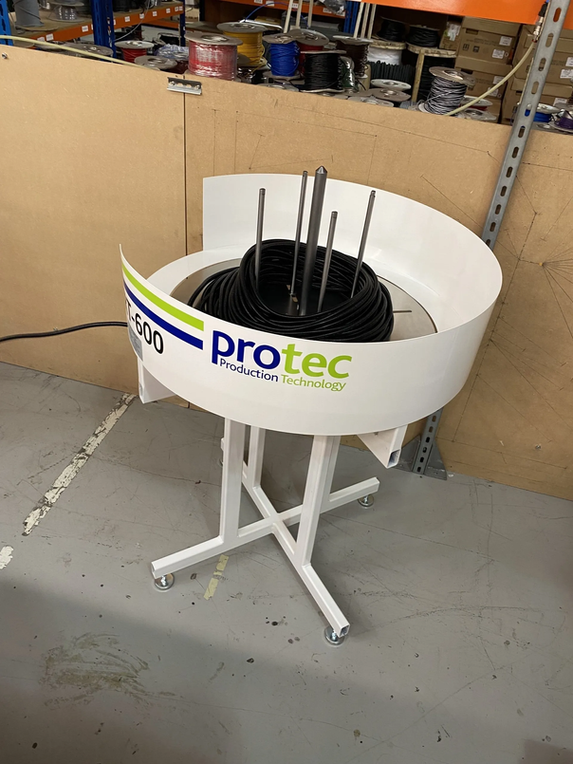 RT System is a range of passive rotary turntable units designed to unspool coils of flexible harness conduit. The RT System can either handle a complete drum of conduit material (Max 40Kg) or loose hanks of material.
Weight (depending upon model type) 35-42kg
Overall height 1200mm
Overall width (depending upon model type) 820-1220mm
Overall length (depending upon model type) 850-1250mm
Material weight 0-40kg (max)
Finish - Gloss powder coat paint (light grey)

There are four movable material supports to maintain the shape of the inner coil during unloading. The rotary turntable is supported upon an arrangement of sealed heavy duty deep groove ball bearings and one large rotary needle thrust bearing for weight distribution and long life.
The system incorporates an adjustable friction brake allowing for complete control of the turntable free running speed and material pay-off.
Build on a rugged, powder coated, welded steel box section frame, with industrial quality height adjustable levelling feet, the RT System is the ideal partner to your conduit processing line.
The RT System is also available as a bench top unit, with a reduced overall frame height and lower cost, but still maintaining the same engineering performance and build quality.
The RT System is available in three model variants;
RT-600 can handle coil sizes up to 600mm Dia.
RT-800 can handle coil sizes up to 800mm Dia.
RT-1000 can handle coil sizes up to 1000mm Dia.